Since it seems like I've been having some weird TV/Movie theme, it's only right to go back to where TV and romance merge. Let's start the week off with a series very much like a romance novel.
Heck, it was originally a novel first.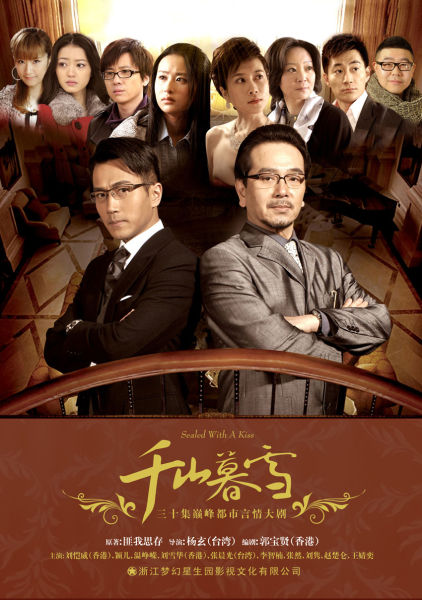 Sealed with a Kiss
This was pretty much a classical romance novel, like a classic romance novel in tv form. If I really thought about it, it would be like a combo of old school historical with a huge emphasis in Harlequin Present. I'm not even kidding about the similarities and I meant it in the best way. They also had a lot of the same pitfalls, but still, it makes one think about some of the romance novels we read when you see actual people acting it out.
Some
great
places that already discussed this story thoroughly.
Basically, guy blackmails girl (because her uncle embezzled money) to be his mistress as revenge for when her father took a bribe and sold the guy's father's business secrets, which in turn caused guy's father's death. We later find out, guy was forced into political marriage in exchange for money to save his family/father's company for 10 years. They ended up being together for 3 years, while the guy remained conflicted between love and revenge, while also being cruel to the woman he loves in order to protect her from his crazy wife. It gets very complicated and very very intricate and oh so juicy, but I loved every moment even though I shouldn't have (minus a few forced kisses, etc.).
The guy, Mo Shao Qian, was very much your typical cold, smart, powerful guy. The great part was how the actor played out the conflicts. Despite him being creepy and cruel for the most parts in the beginning, the actor was good at portraying the conflicts and by the end, you really feel for the guy.
The girl, Tong Xue...well, she sometimes fall into the martyrdom/tstl at times, but what I really enjoyed was that it gets repeated pointed out. Where even at the end, the Tong Xue herself said that she was so stupid to not realize what was happening. Again, I also felt it was more so in the tv show. In the novel, she's not only younger so that thus actually more understandable that she wasn't as strong a character
The political wife, Mu Yong Fei, was absolutely ruthless. Oh gosh was she crazy. The actress was awesome though and played her so well, there were times you'd feel so bad for her...if not of the crazy she pulled right before and after. Oh gosh, she's absolutely brilliantly crazy.
With all the insane problems and dramas, I felt this was a great story still because at the core of this story was about the contrast of love, obsession and possession.
The novel was in first person, so it wasn't until the inner monologues of Mo Shoa Qian and Mu Yong Fei came out did we really see some of the deeper dynamics. In this aspect, I really enjoyed the tv show because they allowed a lot of the inner monologues and actions to be revealed to us the viewers whereas in the novel, it wasn't really revealed. The TV version incorporated a lot of these monologues really well and I totally appreciated the confrontation where everything was revealed, even to the family.
The bottom all contains spoiler.
In the novel, we weren't really sure when or how Shao Qian (until monologues, etc) actually fell in love with Tong Xue and it felt more cruel given the situation. In both cases, we later found out that Shao Qian actually always liked Tong Xue and that he's cruelty to her was two folded. One, he felt extreme guilt and anger at falling in love with the daughter of the man responsible for his father's death. The more he cared for her, the more he hated himself. Two, she was the only person he really ever loved, but could really have given she was hung up on her ex. Related to two, was three, his crazy wife. It was rather incredible that Shao Qian actually hid the fact he had a mistress for almost 3 years from his wife, because he knew how his wife would react. The nicer he was to Tong Xue, the higher the danger it posed to her.
The line up was: he liked her, found out who she was and decided to both possess and punish her, then he loved her and wanted to protect her (by being mean to her?!!!), .finally he realized how much he loved her and have you everything for her. We also later find out that the political marriage, was never consummated and that actually, the guy actually tried to ask for a divorce the night of the wedding. The different in the TV show was that the marriage was entirely fake, without any papers. Novel-wise, they were actually married but again, never consummated. Shao Qian had actually only ever been with Tong Xue despite most of it being in the grey area of non-consensual. The novel was the same but for the greater part, Tong Xue was not as victimized and that some of the physical encounters weren't as bad as the TV ones. Still a bunch of grey areas though -_-'.
A big difference was the expansion of the roles of the Shao Qian's mother and Mu Yong Fei's father. Both were a plus, since they were played by my favorite actress and actor growing up. I loved the layers and the relationships they brought in. They also made a lot of the situation a lot more tragic while making the whole story come together. The interactions and end with Shao Qian's mother was also a good way to show his true personality which was good for the story.
The final reveal in the show was just plain scary. When Mu Yong Fei was finally confronted with proof and spoke up about all her schemes, it literally freaked me out. The actress had this perfect edge of passion, sadness and insanity. You gotta love a villain that's pitiable and more than anything, intelligent. She was the most intelligent person in the entire show, yet was also the craziest. She let her love become obsession and ended up causing herself the most pain.
Basically, she was the one that set up the bribes, the corporate espionage and controlled everything from the beginning. She actually caused the death of Shao Qian's father. When her brother asked why, all she said was like 6 words: Dad wanted money, I wanted person (him, Mo Sha Qian). O_O
She literally schemed everything just to marry the guy thinking that if she worked hard enough, she could get him to love her. It was insane.
At the same time, even with her obsession, I still loved how the author even attempted an explanation. She herself said that if her father didn't favor the brother (gender) to take over the company, she wouldn't have the time to care about a man. My entire body went chilled and got goosebumps all over at that. She sounded so scary. Logical yet everything she said was so freaking evil.
Now, onto the grey areas. Ok, this was blackmail, so by my standard, most of those sexual encounters (that we don't see) would count as coercian and forced seduction. According to the novel, the girl had more sexual power and was stronger in personality, but it didn't make any of this better. From the clips I've read, she was much more snarky and sarcastic. In the show, she acted more like a scared bunny for the most part and rather stupid. It was kind of understandable in the novel since she was younger there (they made her older in the tv show). I liked the end a lot more because we saw how their interactions were more equal. She's hilarious at times. In the show, she almost had no strength and simply acted as she was told (which was again pointed out in the show itself).
I think even though I was very uncomfortable with their sexual interactions and the fact the entire relationship was based on force, it brought up a lot of very interesting issues I had thought about. In romance novels and rom-land, a lot of the older novels as well as historical novels (sometimes even paranormal and erotica genres), there's the discussion of those blackmailed relationships, forced kisses, coerced relationships and how unrealistic or just plain-out wrong. Well, I am using this show as a way to show that yeah, it's creepy and scary and WRONG. Even if you loved someone, those actions were simply bad. Which was most of the first 20 episodes. Lol. While watching the show, I sometimes kept asking myself what am I doing watching this. For some reason, I couldn't stop. -_- I would like to say it was because of the acting, but that's only a partial truth. The story itself was very addictive. As I mentioned earlier, I really felt the story was about the variations of love and what it truly meant to love.
Tong Xue's love was almost childish. It made her weak on all counts and was unrealistic. I think that's what her ex-boyfriend also encompassed. Tong Xue continually clung onto the memories of her ex-boyfriend because it was during her youth, when she was carefree and didn't have any worries or responsibility, ergo, childish for the most part. Even her love for her family was childish. The reason she was being this rich married man's mistress was because she was helping cover up a crime. She thought somehow this martyrdom was love. It wasn't...it's stupid. When the uncle finally realized what happened, he turned himself into the police because, seriously, this wasn't love, it was childish. Even in the tv show, where Tong Xue let herself be used a second time to save her best friend's family, we kind of saw how she was growing up in her relationships. The last step where she did as the crazy wife asked - to say horrible things to Shao Qian to protect him...I guess it was to show maturity, but it just annoyed me. Nothing annoys me more in love stories when the characters weren't truthful to each other. I always felt if they put their minds together, they would be able to at least not have misundestandings. Still, one thing about her that was admirable was her ability to still live a relatively normal life. She still worked, had friends and that's also a testament of her strength. Stupid, oblivious, optimistic strength, but strength nonetheless. Side note, she really seemed to be stronger in the novel than the TV so the shift at the end wasn't as abrupt as it looked.
Mu Yong Fei's love was the unhealthy stuff. It's equally obsession and possession, thus still very immature in its own way. She fell in love with Mo Shao Qian at age 20 and did everything possible to possess him, thinking that it'll make him love her. Yong Fei's love was all about having him to herself, the unhealthy sort of love...if at that. At some point, I figured it was because she never really felt loved or valued the way she wanted. She even pointed out during the confrontation; her father was powerful, she was the jewel in everyone's eye, she was beautiful and smart, the fact that Shao Qian rejected her advances 10 years ago only made her want him more. It kind of dimmed that love into possession, etc. Especially the part where she basically said that if she could it all over again, she'd still do the same thing. O_o
Shao Qian's love was like the combo of the two and probably ended up being the better of the two. We later find out that he really truly ever only loved Tong Xue and never wavered. Even when women threw themselves at him, he just moved away. At the same time, he was still possessive, obsessive and super jealous. Heck, he blackmailed her into being with him. At the same time, Shao Qian didn't delude himself that she would love him. He just wanted to be with her for however long he can. Even in his own monologue, Shao Qian hated himself for not being good to her...yet he continued. Ah, stupidity. He probably matured the most out of all the characters because he was finally able to let it all go and just love Tong Xue sincerely. He gave up his father's company, his career, most of his money, as well as finally letting go of Tong Xue all because he truly loved her. Took some time though since there were times he was just too mean and cruel. BUT, as with all romance
novels
fantasy, he did make it up to her. Seems like when a guy let the woman he loves go (to do whatever she pleased) and sacrificed his career, family business, and fortune all to protect her, it kind of counts as enough groveling.
A few side characters I thought were pretty cool: The best friend Liu Yue Ying was a very fun and intelligent character. The crazy woman's brother, Mu Zen Fei, was also great. He's very intelligent and was somehow a great medium to all the craziness going around. And I already mentioned the parents. :)
Overall, I liked all the characters, even when they act stupid and crazy. Even the villain, Yong Fei, was awesome to watch. She's actually one of those really good villains that you love to hate. Ergo, gotta love every character. On a side note, I love the actor * and actress * that played the respective parents. Loved watching them.
A few final notes I found interesting:
The discussion of abortion. I don't know how to explain it, but the stigma and discussion of abortion was very different in the way I was brought up than a lot of the current political environment where it absolutely makes no sense to me. Ok, to not go into a complete rambling of this particular issue - I just wanted to point out how it related to this story. The TV show made a change in that Tong Xue lost the baby at the end. In the novel, she actually did terminate the pregnancy. It was a rational and realistic decision and didn't go into some moral ranting.
Also, in the novel, Mu Yong Fei actually ended more tragically to show that bad things happen to bad people. The actress that was used in the series, well, Mu Tong Fei let it be known that the actress had STDs so she was ruined. In revenge, the actress threw acid on Mu Tong Fei's face.
Another difference was the ending. In the TV, we're made to think they're separated. In the novel, they actually got married after she came back from overseas. Shao Qian didn't go to jail or anything, so the mini-series that came after this was complete nonsense.
All I can say was to not to think too deeply about the characters because in the end, all you can say would be stupid. Every single one of them indeed. Hahaha. From what I could tell, the moral of this series was to not cling onto those we love and let them make their own choices. In a sense, no one can control whom they love, but they can control how they act and react. One cannot force another to love them either, as with all three characters.
Mu Yong Fei schemed and forced, threatened and pleaded, but could not get Mo Shao Qian to love her. Mo Shao Qian blackmailed his entire relationship with Tong Xue, all the while showering her with expensive gifts, but could never get her to smile happily at him. Tong Xue sort of waited around for a man that couldn't make a decision, but she remained strong and true to herself. Tong Xue maintained friends, co-workers, and school even though she had no power and no choice and terrible terrible things happened to her. It wasn't until Mo Shao Qian took a hint and became more like Tong Xue did things really started to work out. Tong Xue ended up falling in love with the part of him that wasn't insane like Yong Fei. Yong Fei, unable to fully let go remained miserable.
I know it sounded like a stretch, but the story and characters were well written. The level of complexity between every character as well as the business aspects were realistic, even when crazy. I felt it was great at pointing out the problems in it's own story. It was almost as if the author wrote out a typical romance novel, then broke everything down by showing all the problems with the typical stereotypes of unbalanced relationships and how the reality of those romance stories really weren't romantic. It wasn't until our H/h started to be more "real" did their relationship became realistic in order to have a happy ending.
The novel actually had an epilogue and the author wrote little snip-its of their married life together. It's very cute and has been translated
here
. I personally liked the epilogue a lot better since there were still too many parts about the story that bothered me. I'd almost rather read about their married life rather than the crazy courtship. It's more fun and less...creepy.
So, conclusion - I am very conflicted about this series as it has pros and cons and very much fits into the category romance world. Still, I was glad to have watched it. Whether I wanted to or not, it made me think on the idea of romance, the nature of romance novels and the realities of relationships. Even as I cowered into a corner at certain scenes, winced and fast forwarded certain parts, it was still an important experience within its own right. Ergo, no real ratings. It's more of a flip of the coin.